WRITER/DIRECTOR
Daniel Pfeffer is an award winning Mexican-American filmmaker who grew up in Ithaca, New York. He attended Brooklyn College and NYU Tisch School of the Arts for Film and TV production. After earning his BFA, he went on to work in the film industry under various capacities. Daniel strives to use captivating narrative by creating socially conscious films, which speak to the human condition and to audiences worldwide. He received his MFA for Screenwriting and Directing from the graduate film program at Columbia University's School of the Arts. "I'll See You Around" is based off his latest short film "While I Was Gone" which screened at LA Film Festival, Dallas International Film Festival, Palm Springs Short Fest, and won the Domestic Student Award at Denver Film Festival.
CREATOR
Lucas Monroe grew up in Ithaca, New York and currently studies business at Tompkins County Community College. Lucas has deep roots in Ithaca and served as the star, co-writer, and co-producer to his first short film, "While I Was Gone" which enjoyed a successful festival run. He stars in the feature "I'll See You Around" which is based off real events and people in his life.
DIRECTOR OF PHOTOGRAPHY
Ryan Emanuel is a Director of Photography from Mount Vernon, N.Y. He received a B.A. in African American Studies from the University of California, Berkeley which guides his work as a storyteller. Ryan has extensive experience as a digital imaging technician in commercials and fashion and has worked with Michael Kors, Buzzfeed, Columbia Sportswear, and TedTalks. He currently resides in Los Angeles where he is working on feature films.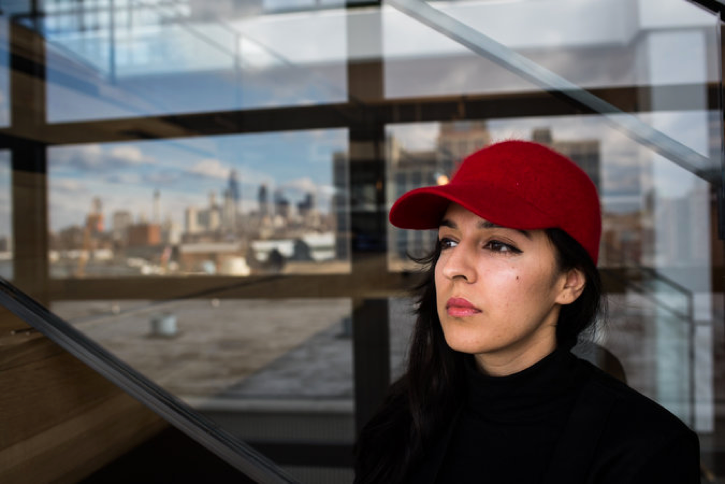 PRODUCER
Khaula Malik is a Pakistani-American filmmaker based in New York City. She got her start assistant directing and producing television shows for Pakistani television. Prior to filmmaking, she worked in healthcare and cancer research at the Sloan Kettering Cancer Center. Khaula received her MFA in Film with a focus in Creative Producing from Brooklyn College's Feirstein School of Cinema. She is currently developing a narrative feature, and is in production on a documentary about the third gender community in Pakistan. Her recent short documentary, "How the Air Feels" won the National Board of Review Student Grant and premiered at AFI Docs in 2017.
PRODUCER
Alexandra Brown got her start in film in 2011 and has worked as a location scout, location assistant manager in New York City and L.A. She worked as the Producer's Assistant on Zach Braff's - "Wish I Was Here." She has produced a number of short films in New York and abroad.
After working in the industry, she studied documentary film at The New School to fuel her passion for both non-fiction and fiction filmmaking. Alexandra Brown is a graduate of Columbia University. She recently received her MFA in Cinematography from Brooklyn College's Barry R Feirstein Graduate School of Cinema. Two recent short films she DP'd "Bob and Dale" and "Este Nina Linda" were awarded the National Board of Review Student Grant in 2018. She is currently pursuing work as a DP.
EXECUTIVE PRODUCER
Arie Esiri was born in Warri and raised in Lagos, Nigeria. He is currently an MFA candidate in Screenwriting/Directing at Columbia University in New York; prior to which he worked as a freelance cameraman before moving into directing and producing short content videos. Directing fashion videos for Maki Oh and Vogue as well as producing short films; including Big Man by Julius Onah in conjunction with the Focus Features Africa First short film program. In 2013 Arie produced his first feature length film, Chika Anadu's AMAA (African Movie Academy Award) winning B For Boy which was acquired by Netflix in 2015 after a successful festival run.
EXECUTIVE PRODUCER
Andi Dervishi was raised in San Diego after immigrating from Albania and fell in love with filmmaking and screenwriting form a young age. In high school he wrote and directed a short film that won Best Drama and Best of the Fest awards at the San Diego Student Film Festival. Earning his BFA from NYU in 2008, Andi majored in Film and TV Production with a minor in Broadcast Journalism. He studied abroad in London apprenticing with the BBC on a weekly non-fiction series. While in school, he interned at Lion TV, Cinetic Media, and The Weinstein Company. Upon graduating Andi worked as Writer for NBC News in San Diego and then Marketing Coordinator at the distributor Kino Lorber / Lorber Films in NYC. Today Andi works out of Los Angeles as a Writer/Producer/Director. The more time he spends outdoors the happier he is. Andi loves to surf every chance he gets. The ocean is his church